About Fermanagh Live
Details

Category: About Fermanagh Live
....Noelle Mc Alinden
Welcome to F Live Arts Festival 2018, now in its eleventh year. We have a diverse and dynamic programme with over 37 events including F Live Fringe events leading into and beyond our Festival weekend. With vibrant visual arts, poetry, literature, dance, drama, music, events and performances for all, guaranteed to entertain, enthuse and inspire.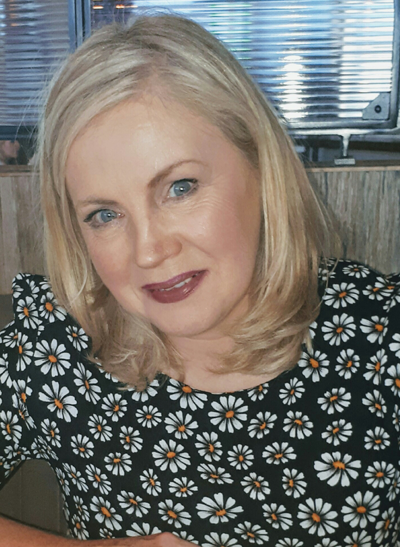 We're proud to build upon the success of previous festivals, thanks to the experience and dedicated commitment of our F Live Team and volunteers. We are indebted to all our funders, artists and festival partners, and very grateful to our internationally acclaimed cultural champions Adrian Dunbar, Dr Denise Ferran, Carlo Gébler and Ciaran Mc Menamin for their ongoing participation and support. We are delighted to welcome home all our artists and those who continue to push boundaries and excel in their cultural pursuits.
Details

Category: About Fermanagh Live
Situated in the scenic and picturesque west of Northern Ireland, Fermanagh is home to some of the country's greatest music, drama and visual arts. At its centre is Enniskillen, a busy and vibrant town steeped in history and culture, with associated greats including Oscar Wilde and Samuel Beckett.
2013 Overview
2012 Overview
Welcome to Fermanagh's only Arts Festival - now in its 9th year. 
Fermanagh Live Arts Festival for 2017 promises to be a truly creative and engaging family affair, building upon the successes of previous years and the ongoing commitment, creativity and imagination of an experienced team of volunteers, artists, educators and creatives. All dedicated to ensuring this year's programme is diverse, dynamic and all-inclusive. Fermanagh has much to offer, the landscape, the waterways, the history, heritage and architecture...as well as the talents and creativity of the people". Come on board what promises to be a journey of creativity, curiosity, imagination and self-expression during this year's Fermanagh Lives Arts Festival 2017. Oct 4th to Oct 8th.Celebrating creativity on and off the Island Town and the stunning Waterways
Noelle Mc Alinden chair of FLIVE 2017
Fermanagh Arts Festival Limtied Registered in Northern Ireland NI066336 -
Registered Office 106 Rabbitburrow Road Lisbellaw Co. Fermanagh BT94 5FL Tel - 079 2734 8517
Details

Category: About Fermanagh Live
Straddling the small waterway between Lower and Upper Lough Erne, Enniskillen is Fermanagh's biggest town with an approximate population of 14,000. The town itself is built along one main street which changes names six times along its length!
As a result, this makes Enniskillen a hub for shopping and socialising and creates an atmospheric buzz among the high street and independent stores, bars and restaurants. With an abundance of locations and facilities, the festivities will be taking place in the following venues:
For more information on Enniskillen and Fermanagh, check out the following links: www.fermanaghlakelands.com www.fermanagh.gov.uk www.enniskillen.com www.thebestof.co.uk/local/enniskillen
Accommodation and Venue Map: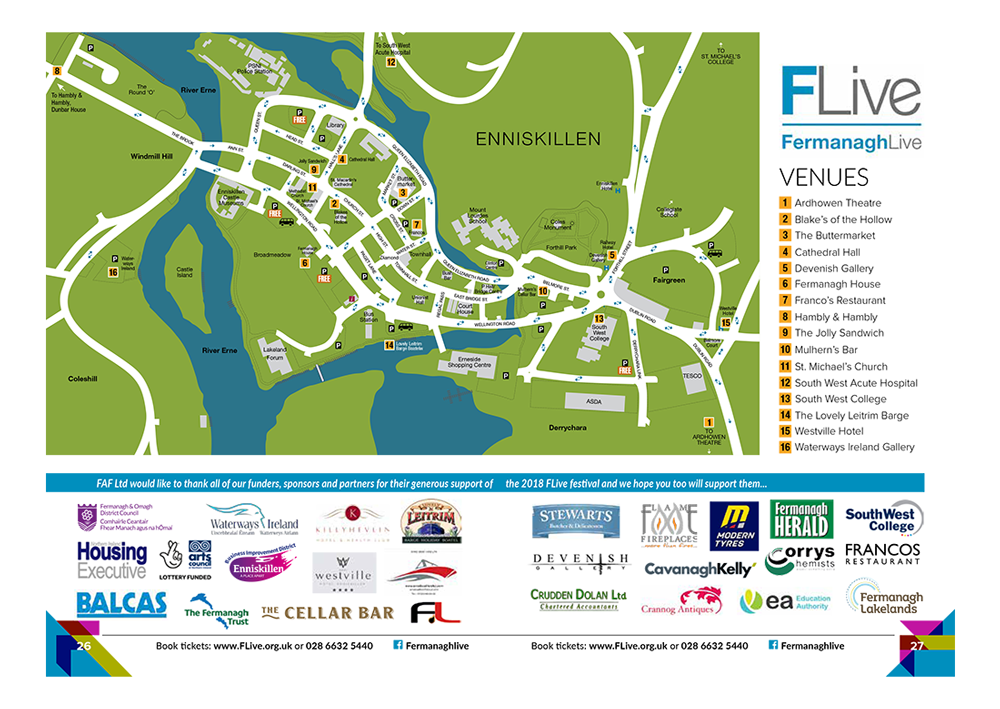 Details

Category: About Fermanagh Live
Fermanagh Arts Festival

Would like to thank all of our funders, sponsors and partners for their generous support of the 2018 FLive festival and we hope you too will support them in kind. We would also like to thank the Fermanagh Herald as the festival media partner.
Details

Category: About Fermanagh Live
It was great to be part of last year's F Live Arts Festival and I can't wait for what's on offer this year. Paul Brady at Ardhowen will be electric! Having spent a lot of last summer and autumn at Literary and Arts festivals all over Ireland I am proud to say that the festival in my home town, Enniskillen, was up there with the best: a festival that truly punches above its weight. F live offers quality entertainment and unique opportunities to access the arts and culture, try new things out, suitable for the whole community. The effort and energy the F Live team and all the volunteers put in is outstanding.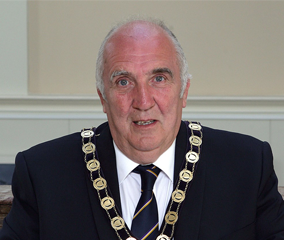 Details

Category: About Fermanagh Live
On behalf of Fermanagh & Omagh District Council, I would like to congratulate the Fermanagh Arts Festival Committee on such an excellent programme of events for the 2018 Festival. Fermanagh Arts Festival was established in 2007, I am delighted that it has continued to flourish and grow, and this year's programme embraces a diverse genre of arts & culture in many guises featuring local and national acts.