Sunday 6th October | 2.30-4.30pm | Cathedral Hall | £10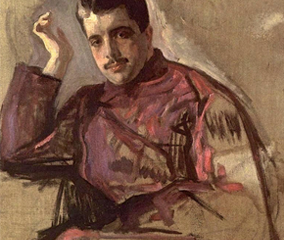 Richard Pierce was, in his working life, one of our community's most respected architects. In his retirement he paints watercolours, produces huge, abstract photographs, chairs Music in Fermanagh, which brings classical music concerts to our community and writes and presents popular, illustrated talks on all art forms. His annual appearances at Fermanagh Live are turning out to be a mixture of his own personal anecdotes and his perceptive insights into whatever art form he is introducing. This year is no exception.
In the course of designing the Pushkin House for the late Sacha Abercorn, Richard went with her to Russia for ten days. They stayed in the amazing St Petersburg home of the Anglophone world expert on religious icons and Sotheby's expert on Russian art, Johnny Stuart.
This amazing man took time out to introduce Richard to the secrets of reading an icon and also to the extraordinarily revolutionary art of Russia in the late 19th and early 20th centuries.