Thursday 3rd October | 7 pm | Fermanagh House | £8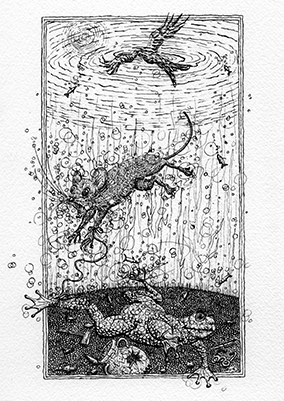 The writer Carlo Gébler and multi-media artist Gavin Weston have produced a new version of Aesop's fables for adults, Aesop's Fables, the Cruelty of the Gods. Aesop, the historical figure, was a fixer. You had a problem, for instance, you wanted to win an election, or you were on trial, you got Aesop to come and tell a story on your behalf and he would do that, and then he would fit the story to your circumstances.
For this event, an early twenty-first century twist on this practice will be offered. Everyone who attends and who feels so inclined, will be able to put a question, a problem, a thought, a rant (which they have written down on a piece of paper) into a hat. Carlo Gébler and Gavin Weston, without having previously had sight of what's written, will then pull the slips out, read them aloud and attempt, like Aesop would, to connect what's written to an appropriate fable. It could be interesting. The gods will decide.
Gavin Weston's illustrations for the book will also be on display.