Devenish Gallery | 14 September - 31 October | Launch | 14 September at 7pm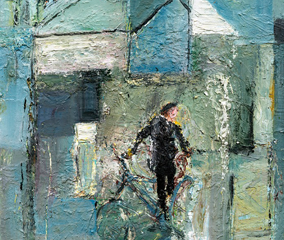 Open Monday to Saturday 10am to 5pm. FLive welcomes home the Fermanagh born and Dublin-based artist with his exhibition 'Transition and Place', a unique selection of exquisite paintings and prints, all for sale.
Gerard McGourty is a self-taught artist who, since 1989, has had numerous solo exhibitions and is represented in major private collections in Ireland ,Italy and the USA. He is an artist-in-residence in Millrace Gallery, Blackrock, co Dublin.
Of his childhood in Fermanagh Gerard remembers a time later overshadowed by the "Troubles" of Northern Ireland, but the woodland and fields provided a natural heaven, a place where simple ideas could germinate and later become a painting. He has travelled widely and spent time abroad, all the while appreciating the fullness of nature and our human place in it. "I have made my canvas a wonderful exploratory machine, where I investigate different phenomena through the prism of history, childhood experience, the effects in society of current economics and managements, romance, travel, in fact the gamut of human experience, and the constant search."